INDOCHINO Traveling Tailor
The menswear gods just keep blessing the modern day gentleman with ways to acquire the perfect suit. This time it comes in the form of a traveling tailor event brought to the public by INDOCHINO.

For our readers who are not familiar with the INDOCHINO brand, allow me to make your lives much easier when it comes to finding the perfect tailored suit. INDOCHINO is a online resource that provides high quality menswear products fit to perfection for the dapper danes of the world.  

On their website, customers go through a 10 minute measurement process that is done from the comfort of their own home, no need for a trip to the tailors at all. Their products are hand tailored and delivered to any part of the world within 4 weeks.

In an attempt to spread the word about what the brand does, they have created a revolutionary method of helping customers tailor their suits: The Traveling Tailor. An event that has successfully taken place in San Francisco, Chicago, and now New York.  

INDOCHINO will be taking over Grand Central Terminal from October 22nd - 29th! For a full week customers can pre-book an appointment between 8:00 AM and 8:00 PM to meet with one of the brands fit specialists. The fit specialist will take their measurement and create an online profile within minutes. This online profile will help them to create and buy outfits that they can purchase in the store or from their custom online apparel. 

The amazing aspect of this event is that you can literally build your own custom suit from scratch. Customers can see and feel the fabrics available and get aid from INDOCHINO stylists to create the perfect suit. The brand is also offering some pretty cool freebies when it comes to adding personal touches, such as 40 character custom monogramming, designed linings and collar felts - all free of charge.

The traveling tailor will be accepting walk in's but individuals who book an appointment will be gifted with a complimentary dress shirt with any suit purchase.

This is the perfect opportunity to get the perfect suit at a convenient price and location, so if you are in the New York City area, make sure you book an appointment and stop by Grand Central Terminal to acquire your INDOCHINO garb!
Brown Suit X Alfani Red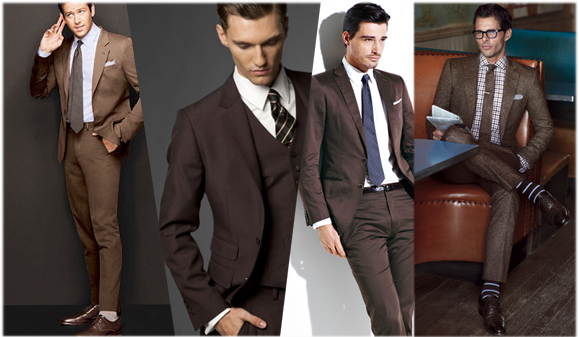 The brown suit has become a sought after staple item in the world of menswear as of late, with virtually everyone showcasing their personal interpretation of the brown duds; and with Fall approaching, I can't think of a better time to start hunting for your staple brown suit.

This quest for the perfect suit led us to browsing the web for different but AFFORDABLE suits we could purchase this coming season. From first glance many suits seemed to fit the quota, but one that stood out in particular to us was this ALFANI Red Slim Fit Suit. Available at Macys, this suit encompasses virtually everything we were looking for.
What we appreciate the most about the suit is that it's a slim fit, but it doesn't fit TOO tight, which makes it perfect to wear to work. The brown is also a perfect color for the upcoming change of season, prompting us to already have gazillions of tie & pocket square combinations for this baby. Made of wool interior and a viscose/polyester exterior, we can already imagine that this suit feels as good as it looks!
Our favorite part of the suit is the jacket which has a notch lapel and a chest pocket perfect for an array of pocket squares / circles. You can purchase the jacket and pants separately, or you can purchase them both at the same time. We definitely recommend doing so now. seeing as BOTH items are on sale. You can also check out more suits from ALFANI RED, here, here , and here. Thank us later :)
Two cheers for affordable menswear!